Blas Na hEireann 2017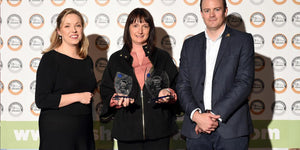 So myself and James packed our bags and travelled to Dingle, Co. Kerry last weekend for the Blas Na hEireann Irish Food Awards. Last year was our first time entering this award and we walked away with GOLD for our PowerHouse Protein Balls. We were thrilled, it really gave our whole team a massive boost of encouragement. So heading down this year we wondered how we could beat the fun and excitement of last year.
On Friday evening buyer's from all over Ireland and the UK get to privately view all of the companies and food products that have made it to the finalist stage of the awards. And on Saturday morning the award announcements begin. One of the many highlights of the weekend for us is catching up with foodie friends that we haven't seen all year. This year we also spent some time with foodie bloggers @gastrogays discussing the joys of food.
On Saturday afternoon at 3pm our category was up. It was time to see who this years winners were! I was thrilled to be called as Bronze winner in our category for our Rawlo's. I walked up to collect my award while they were calling out the winners of 2nd place, Silver. In a split second I was told to stay where I was as Absolute Nutrition had also won GOLD in this category for our PowerHouse Protein Balls. We had won not 1 Blas award, but 2!! This being our 2nd year in a row to win Gold for our Protein Balls. As you can see from the picture, I stood in a moment of shock and sheer joy as we were papped by the photographer.
It's quite an emotional feeling to be standing on the podium being selected from so many amazing hardworking food producers for the work and effort that you put in day after day. It's a privilege and we are extremely grateful for the experience and the recognition that these awards bring.
We got to spend some time on Friday and Saturday mingling through the streets of Dingle in our element sampling fresh oysters and Guinness, fish tacos, locally made ciders and cheese, handmade chocolates and even bbq'd kangaroo steak! Seriously, if you've never been to the Dingle Food Festival held on the last weekend in September each year, your missing out. You can also enjoy local street music and crafts...and not forgetting the amazing sea views.
It's quite an emotional feeling to be standing on the podium being selected from so many amazing hardworking food producers for the work and effort that you put in day after day.

– Jo x