Graduation Day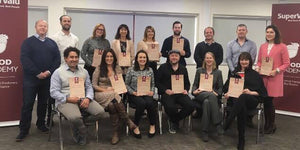 So..last month we graduated from the Advanced Food Academy Programme with SuperValu. To say that we have learned a lot about business and ourselves personally along the way is an understatement. We went into this programme with no background knowledge in food or business so we're feeling pretty proud of ourselves right now!
As with most things, it's not always plane sailing. We have worked through the night, stressed about things until we were ready to crack and we have shed blood, sweat and tears, but here we are, we made it.
We have spent the last year working with fellow advanced food academy companies like Nutmost, The Fresh Fish Deli, Homespun and The Little Pharma to name but a few. We have learned so much from each others experiences andhave gained some great friendships. And while I am sad that the programme has come to an end I and hungry and excited to see what the future holds for us all. I do know that we will continue to receive invaluable support from SuperValu, Local Enterprise and Bord Bia.
Keep your eyes peeled for real Irish Food Producers in your local supermarket and thank you all for your support...Jo x